little girls bathing suits...
everyone has their own opinion. i realize that. we've been ok with brookelyn wearing 2 piece bathing suits from the time she was a baby, simply because we thought that she looked cute. when she was 5 or so we started to buy more one piece bathing suits for her, for a little more coverage. and then, she started growing AGAIN!
brookelyn has always been on the tall & slender side and it got to the point that it was VERY rare to find a one piece bathing suit that fit her properly. most either sat too low so that her chest area would show or they were too baggy & saggy in the butt and crotch areas. so, we'd end up with 2 piece bathing suits. some bikinis, some tankinis. we swim a LOT in the summer, like nearly every day at my moms house. so she's usually got 6-10 suits.
today while matt & i were out shopping we went to look at the bathing suits at sports chalet. i immediately spotted a bright, cheery, yellow floral O'neill 2 piece. Cute, right?
WRONG!! take a look at the bottoms!!!
<--- i was APPALLED when i noticed how tiny cut the back of the bottoms are! There's NO way those bottoms would cover her whole rear end!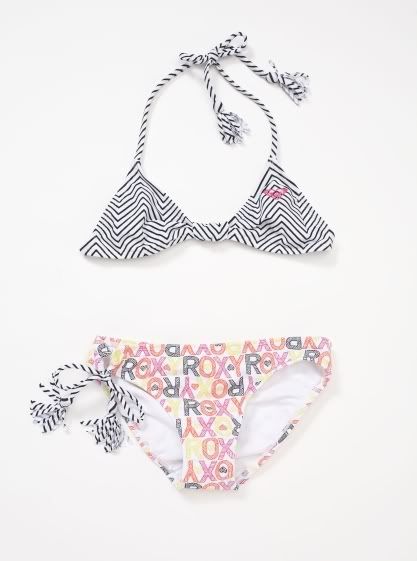 to compare, let's look at a similar suit we saw by Roxy. the bottoms on this suit would completely cover her rear end!
as far as matt & i could tell, the o'neill bottoms were FAR too narrow in the back for ANY young girl, let alone an 8 year old to wear. we'll definitely be steering clear of o'neill girls bathing suits from here on out. there is NO way that small of a cut is appropriate! we even looked at a couple of the o'neill one piece suits, thinking they'd be better, but nope. crazy narrow backside coverage. horrible and totally disgusting.
i can't help but wonder why the retail industry is so willing to make bathing suits that are so completely inappropriate for little girls. last year i remember a big stink being made about abercrombie & fitch having little girls bikinis with padding in the tops. and this year, these crazy tiny bottoms.
thank goodness for brands like gap, old navy, roxy, and target!
happy monday friends!
i'd love to know what you think about this!